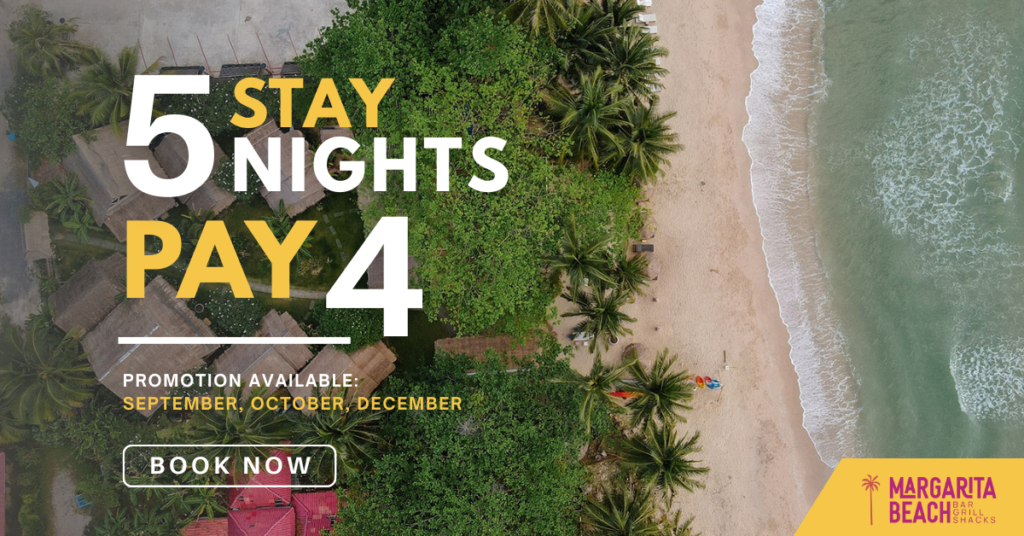 Where it's all about easy…
Taking it easy – with your feet in the sand, or a drink in your hand
Making it easy – from booking a shack to ordering a snack, we're here to make it easy
Sharing it easy – from our famous Margarita jugs and our menu, many of our favourite things are best shared, like good times with family & friends at Margarita Beach
Caring it easy – we care about your Margarita Beach experience and hope you enjoy being here as much as we enjoy having you, if we can do anything to improve your experience let us know, we care
The Shacks
We've only got 8 shacks at Margarita Beach, if you are lucky enough to stay with us you'll be one of the few to experience the real beach shack life.

Our shacks are unashamedly simple and uncomplicated with bamboo walls, roofs and terraces, the bathrooms and most bedroom floors are polished concrete and tile.

Our bamboo beds are topped with comfortable mattresses and linens.

All shacks have air conditioning except for our "Original" fan cooled shack.

All shacks have hot and cold water, mini fridges, hairdryers and safety boxes.
The Bar
A true thatched beach bar with bar stools or casual beach seating.

There's something for everyone, from our signature margaritas, classic or frozen, ice-cold beers, cocktails, mocktails, wines by the glass or bottle, fresh fruit shakes & coconuts, soft drinks or your choice of coffee or tea.

Our bar & beach snacks menu is designed to be easy; easy to order, easy to share, easy to eat, available all day at the bar or the beach.
The Grill
We like to mix it up at the grill where our beach cuisine combines inspirations and styles from traditional Thai & BBQ to our own creations designed to appeal to a wide range of tastes and palates. We encourage you to experiment and share.