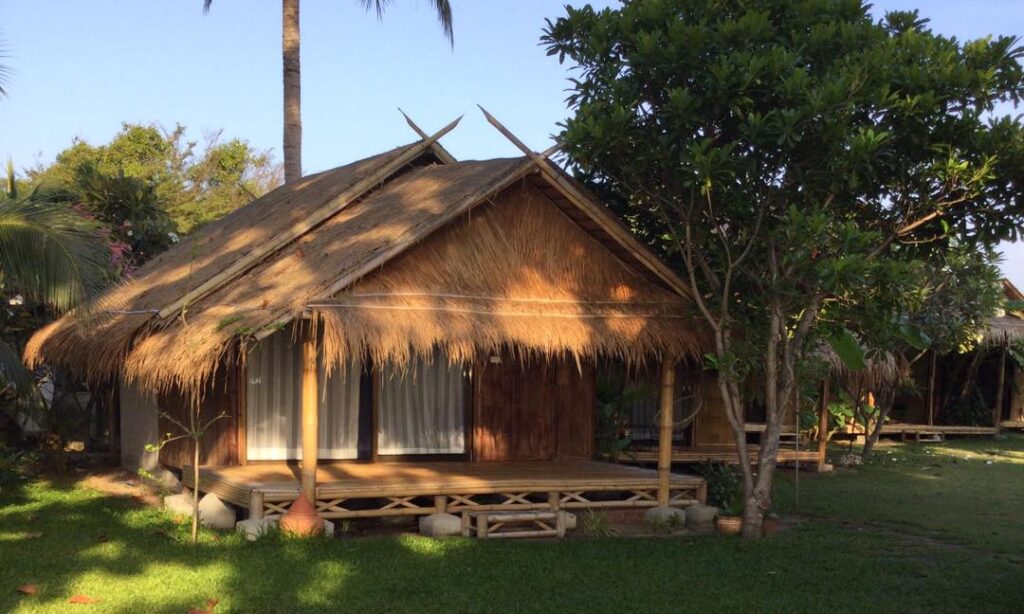 The Shacks
(accommodation)
The shacks at Margarita Beach are all less than 100 steps to Khanom's beautiful 9KM long white sand beach.
Original Shack
(Shack 1)
Fan Cooled, Sleeps 2
The original shack is fan cooled with bamboo terrace and bedroom floors, double bed and en suite shower and and toilet. The original is close to the grill and beach.
The Big Shack (Family)
(Shack 3)
Airconditioned, Sleeps 6
Our only two level shack can accommodate up to 6 people, the ground floor has a covered terrace, double bedroom and large shared shower room and toilet, upstairs is divided into 2 rooms each with a double bed.
Cool Shacks
(Shacks 2,4,5,6,7,8)
Airconditioned, Sleep 2
We have 6 Cool Shacks with air conditioning, covered terraces, double bedrooms with en suite shower room and toilet.
Cool Shacks number 2&8 have bamboo floors in the bedroom as well as on the terrace with a more traditional vibe. Shack 8 is the closest to the bar, grill and beach.
Cool Shacks number 4,5,6 & 7 have bamboo terraces with solid polished concrete floors in the bedroom.
Shacks 5&6 connect to accommodate 4 people, the front terraces can also be connected, great for families.
---